Latest Episode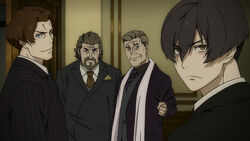 Episode 11: All for Nothing
Vincent's dream, the Vanetti playhouse, is now complete. Don Galassia and his nephew Strega, have been invited. In public, they are friendly with Nero, but they are the large family that controls Chicago. The playhouse's opening the next day is wreathed in tension. And at last, the day Avilio's been waiting for has arrived...
The individual episodes can be found here can be found here.
Ad blocker interference detected!
Wikia is a free-to-use site that makes money from advertising. We have a modified experience for viewers using ad blockers

Wikia is not accessible if you've made further modifications. Remove the custom ad blocker rule(s) and the page will load as expected.